Audiovisuelles Konzert mit Solisten des Nouvelle Ensemble Contemporain NEC
Auftragskomposition für Viola, Bassklarinette, Perkussion und Stimme – CRÉATION frei nach Jorge Luis Borges
Franziska Baumann, Komposition und Stimme
Claudia Brieske, Videoschnitt und Live-Projektion
Angela Bürger, szenische Begleitung
>
Marie Schwab, Viola
Jean-François Lehmann, Bassklarinette
Lucas Gonseth, Perkussion
>
"Der Mond ging über dem Fluß auf lautet: blör u fang axaxcas mlö oder in genauer Wortfolge: Empor hinter dauer-fließen mondet'es." (aus der Erzählung "Tlön, Uqbar, Orbis Tertius" von Jorge Luis Borges).
>
Für die Kompositionen hat Franziska Baumann einzelne Klangtypen wie Drones, Texturen, Pulsationen und Aktionen in grafischen Notationen ausgelotet und mit verschiedenen verbal präzisen Spielanleitungen kombiniert. Diese wurden zusammen mit den Musikern und Musikerinnen des NEC ausgearbeitet und ausdifferenziert.
Die Videos haben – ebenso wie die schon beschriebenen Klangtypen – einen modularen Charakter. Installierte Tücher und Gazen fangen die Bildbewegungen auf und lassen gestische Bildräume entstehen, die auftauchen und wieder verschwinden. Sie durchbrechen den Raum dekonstruieren ihn in einer an den Klang gekoppelten Spiegelung. Dabei wird der Bereich zwischen situativer konzertanter Präsenz und virtueller Raum-Szene mit mobilen Videoprojektionen ausgelotet.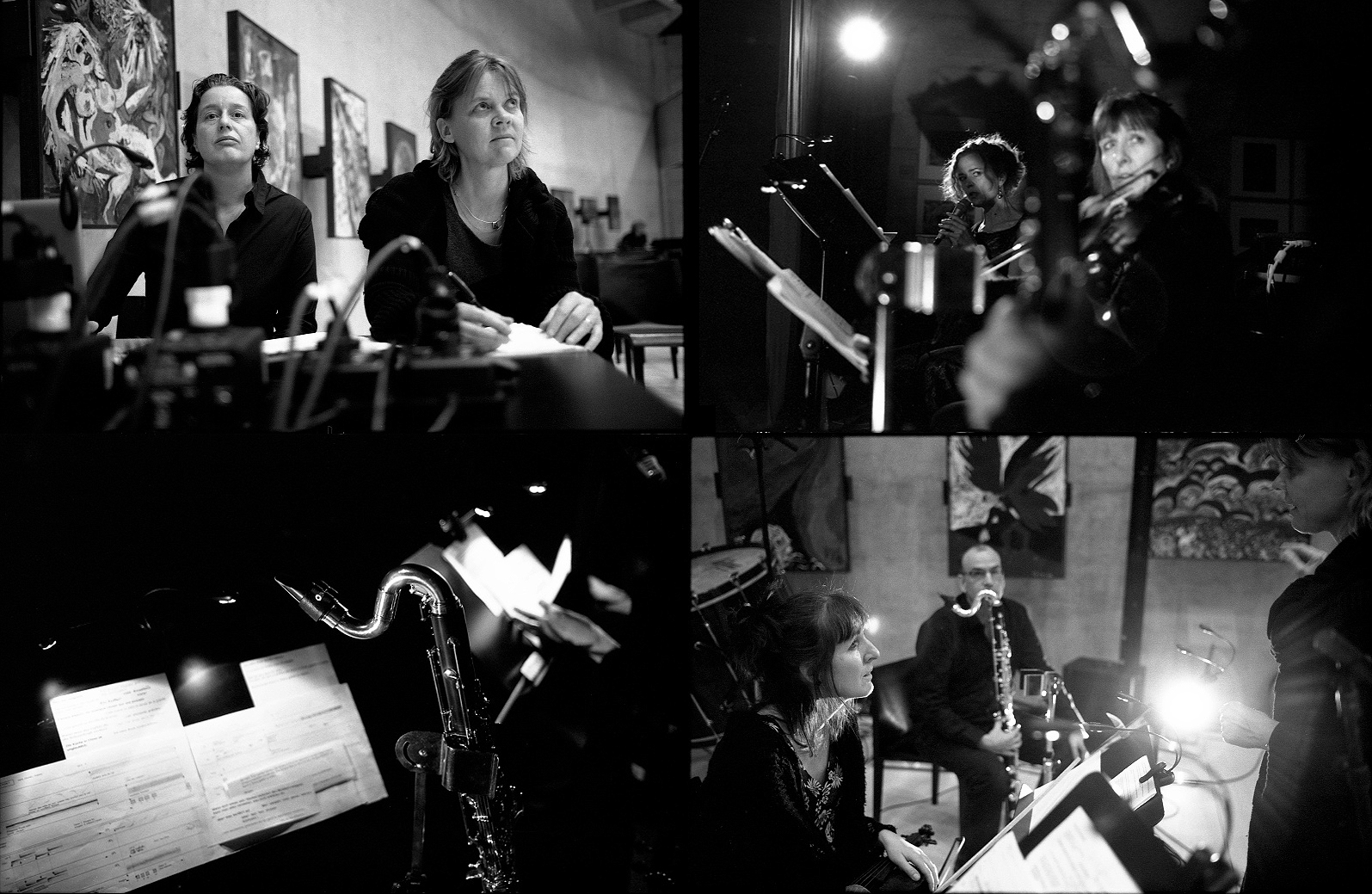 01.02.2012, Centre Dürrenmatt, Neuchâtel
Audiovisual concert with soloists of the Nouvelle Ensemble Contemporain NEC
Commission for viola, bass clarinet, percussion and voice – CRÉATION free after Jorge Luis Borges
"The moon was rising above the river: blör u catch axaxcas mlö. Or in exact word order: "constantly beyond – it is mooning." (From the tale "Tlön, Uqbar, Orbis Tertius" by Jorge Luis Borges).
For the compositions, Franziska Baumann has explored individual sound types (notated in graphical scores) such as drones, textures, pulsations and actions. She combined them with various verbally precise playing instructions. Based on these notations individual sounds were found in co-process with the soloists of the ensemble NEC and then composed in a final score.
The videos have a modular character – just like the sound types described above. An installation, of various fabrics in space, captures the video projections and creates image spaces for the protagonists. Theses transparent walls break the room, deconstructing it in a reflection coupled to the sound. The range between situational concertante presence and virtual space scene- is explored with mobile video projections.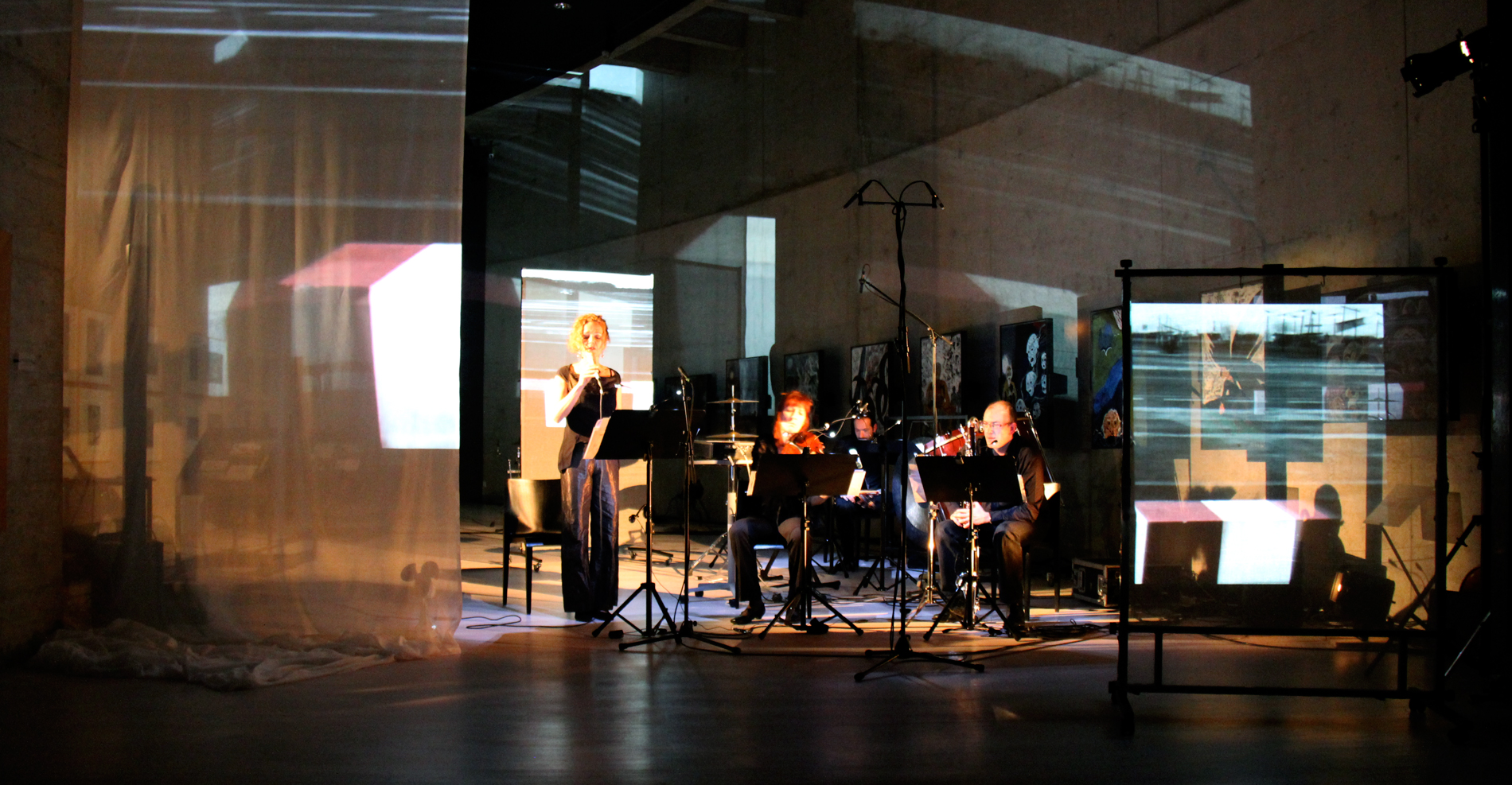 >
13.04.2012, Dampfzentrale, Bern
Auszug Partition Fictions